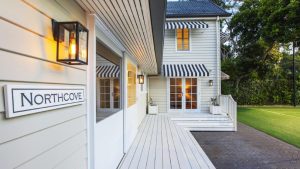 "In the height of a hot Australian summer, one of the best ways of protecting and cooling your home is by using external canvas designs."
At Dolomite Blinds & Awnings we are able to offer a complete range of external awnings to suit every application.
A must for harsh Queensland summers, canvas awnings not only reduce the need for other cooling methods but protect your valuable furnishings and carpet from damage caused by the sun's powerful rays.
Our range of canvas awnings is custom made using the latest acrylic canvas ranges including a vast selection of plains and stripes, offering excellent protection from the heat and damaging UV rays.
Most of our awnings are also available in "sunscreen" see-through material, providing glare reduction and UV protection, whilst still allowing you to enjoy your views. With headboxes to co-ordinate or contrast with your roofing etc, we can offer you stylish awnings, made especially to suit your decor and shade needs. Stainless steel componentry is also available for coastal exposure areas.